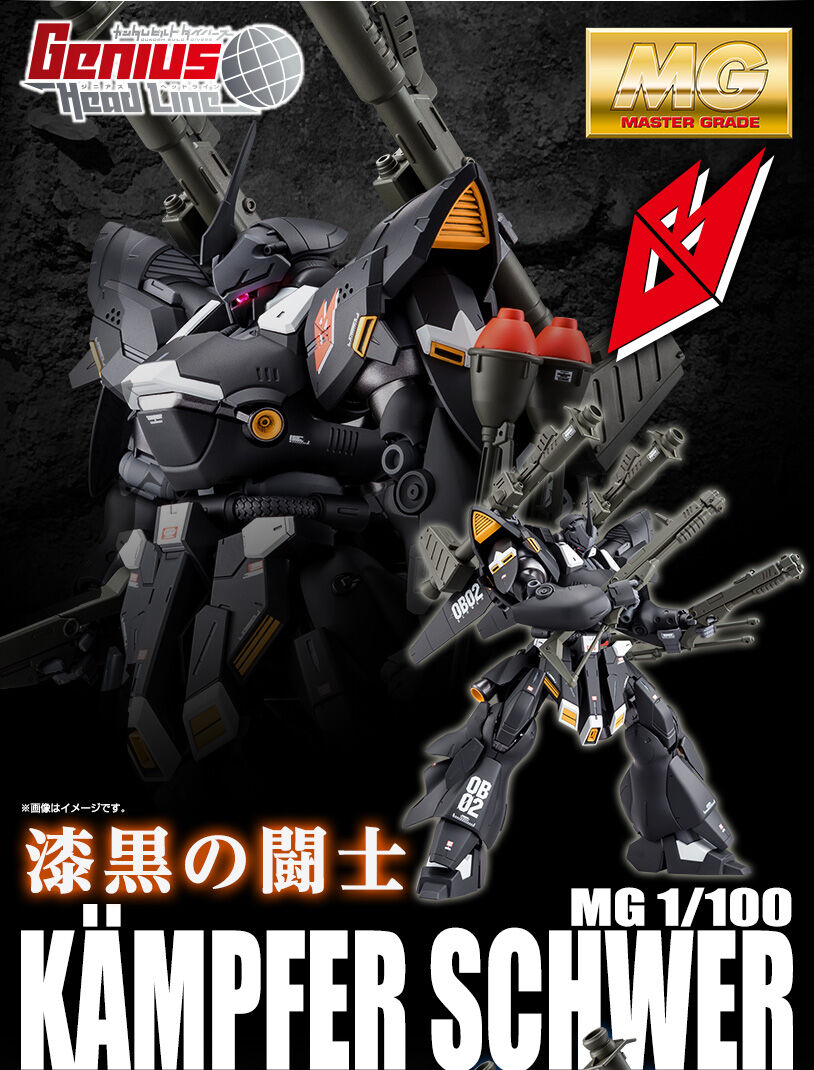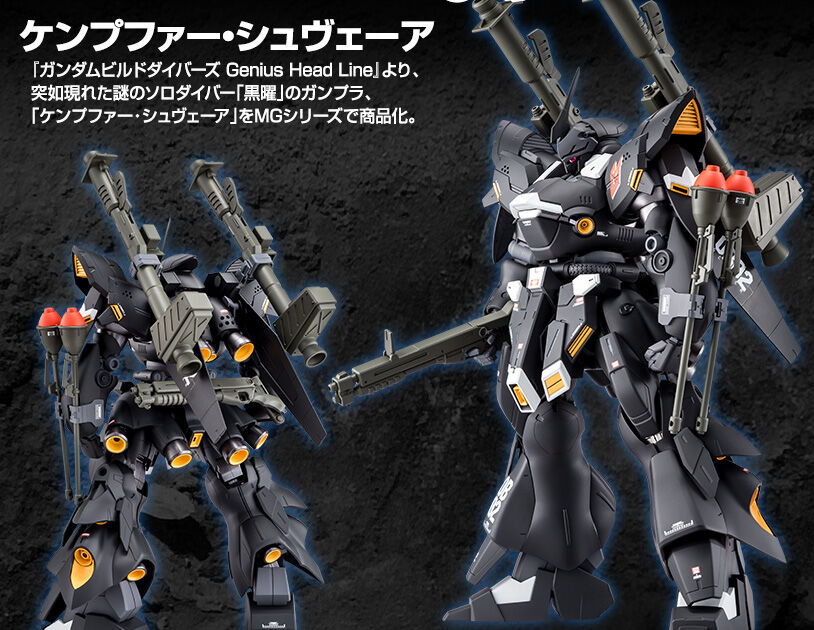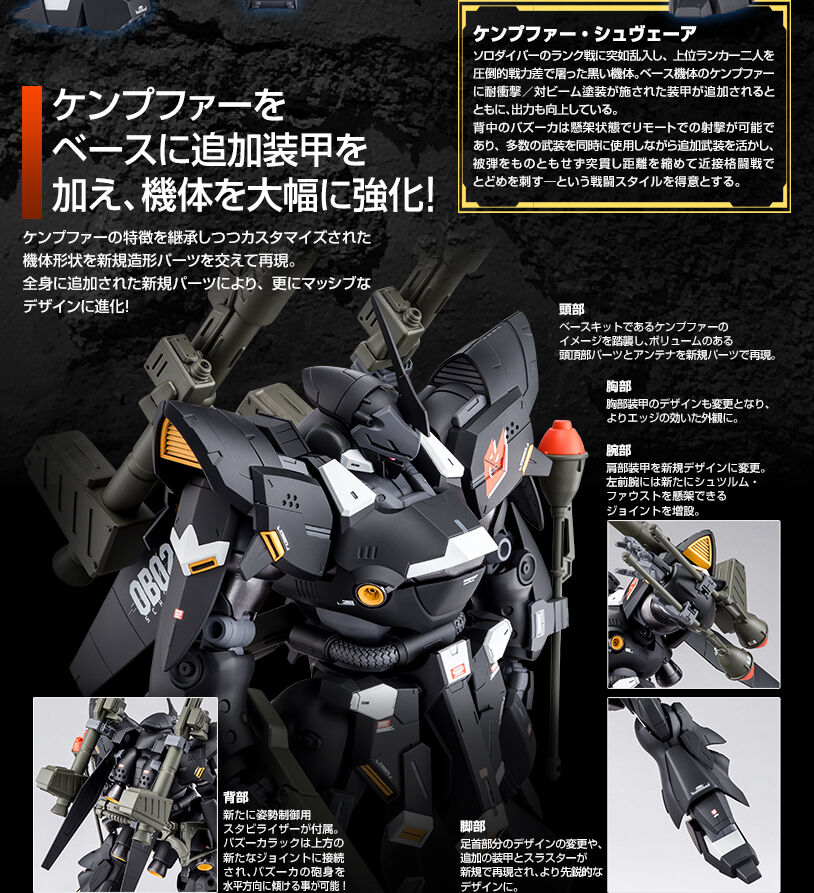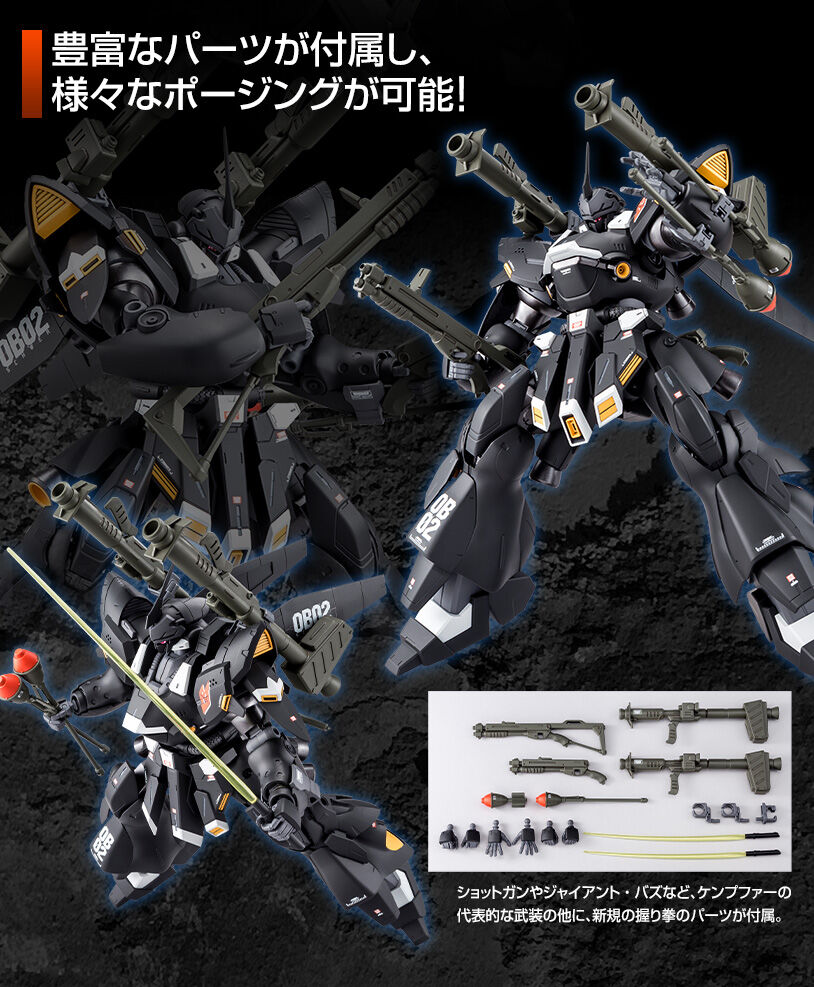 Product Details
- - - - - - - - - - - - - -
"Gundam Build Divers" Official Gaiden
"Gundam Build Divers Genius Head Line"
- - - - - - - - - - - - - -
From "Gundam Build Divers Genius Head Line",
The mysterious solo diver "Kokuyo" who suddenly appeared, has released the Gunpla "Kempfer Schwer" in the MG series.
●Additional armor based on the Kampfer base to greatly strengthen the aircraft!
While inheriting the characteristics of Kaempfer, the customized aircraft shape is reproduced with new molding parts.
With new parts added to the whole body, it has evolved into an even more massive design!
the head
  Following the image of the Kampfer base kit, the voluminous parietal parts and antenna are reproduced with new parts.
chest
The design of the chest armor has also been changed, giving it a more edgy appearance.
Arm
Changed the shoulder armor to a new design. The left forearm has a new joint that can suspend Sturm Faust.
back
A new attitude control stabilizer is included. The bazooka rack is connected to a new joint above, allowing the barrel of the bazooka to tilt horizontally!
Legs
  The design of the ankle part has been changed, and the additional armor and thrusters have been newly reproduced, giving it a more radical design.
● Abundant parts are included, allowing various poses!
In addition to Kaempfer's representative weapons such as the shotgun and giant buzz, new fist parts are included!
● Water transfer type decals including original designs are included.
"Kokuyo" emblems and numbering are included, and decals are included to enhance the details of each part.
Attached armed: Shotgun x 2 / Giant Buzz x 2 / Sturm Faust x 2 / Beam Saber x 2