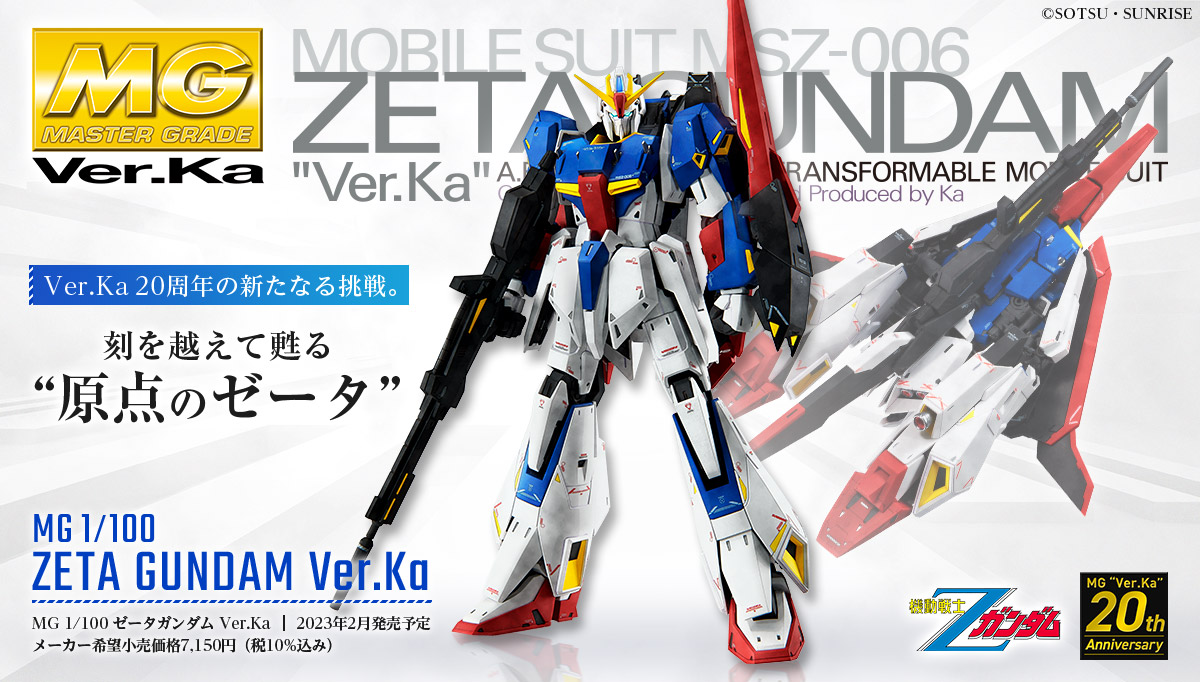 MASTER GRADE Ver.Ka 20th anniversary! "MG 1/100 Zeta Gundam Ver.Ka" has appeared from "Mobile Suit Z Gundam".
- Pursuing the proportions in the anime setting draft by Mr. Kazumi Fujita.
■ Refine the structure and shape of each unit so that both MS form and wave rider form are not broken, and build a transformation mechanism. Simplify complex gimmicks and realize updated transformations.
■The reproducibility of the poses in the play is improved by securing a wide range of motion in the MS form. By providing a lock mechanism for each part, it is possible to have a stable display like a fixed aircraft model in wave rider form.
■A metallic extra finish is applied to various parts of the aircraft, and water slide decals designed by Hajime Katoki are included.
【accessories】
■ Shield x 1
■ Beam rifle × 1
■ Beam saber × 2
■ Grenade launcher cartridge × 2
■ Hand parts × 1 set
■ Display joint x 2 types (for MS/WR)
■ Figure x 2 types
■ Foil seal × 1
■ Water transfer type decal × 1
"MG 1/100 Zeta Gundam Ver.Ka" finally goes on sale April 29th (Sat)!
Prior to the release, the deformation assistance page has been released.

You can freely check the deformation process by operating your smartphone or PC.
https://bandai-hobby.net/site/mgka/howto/