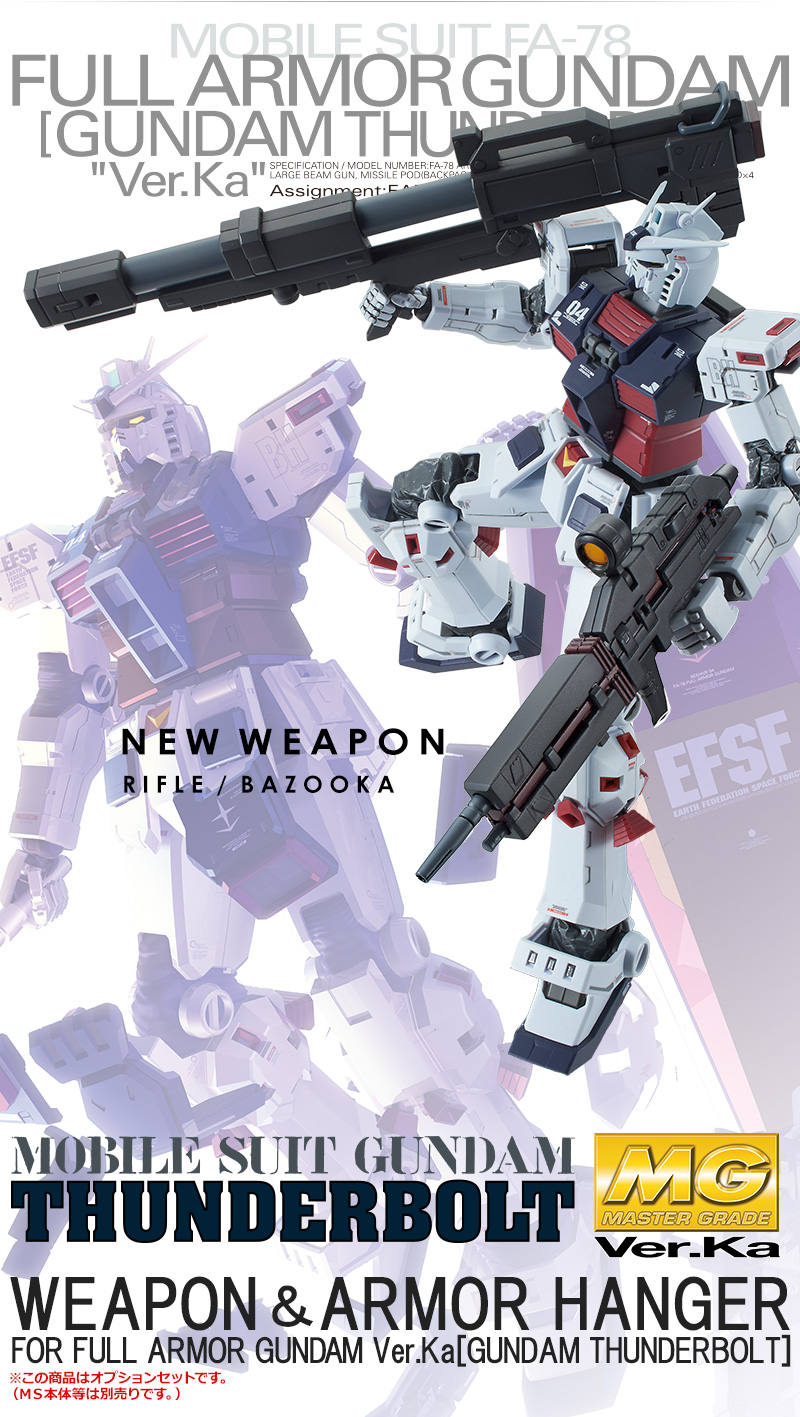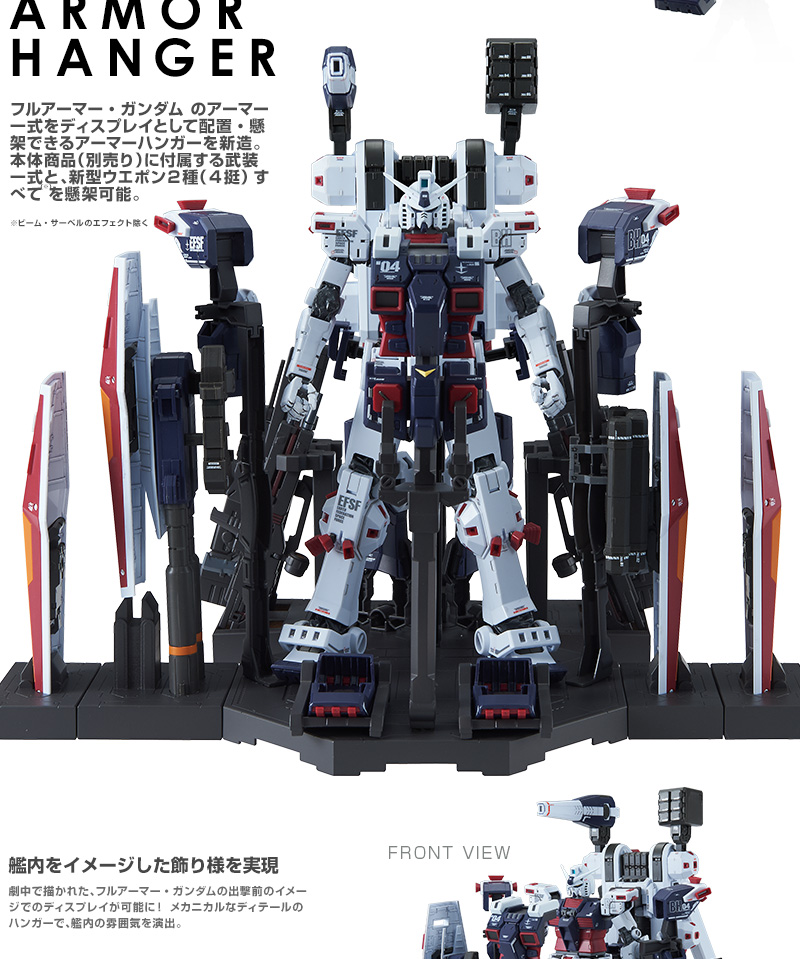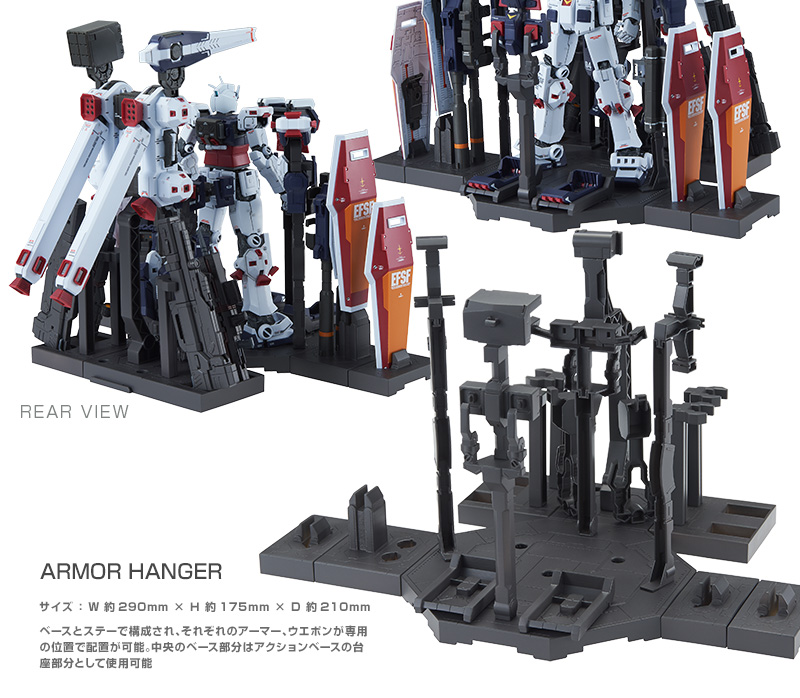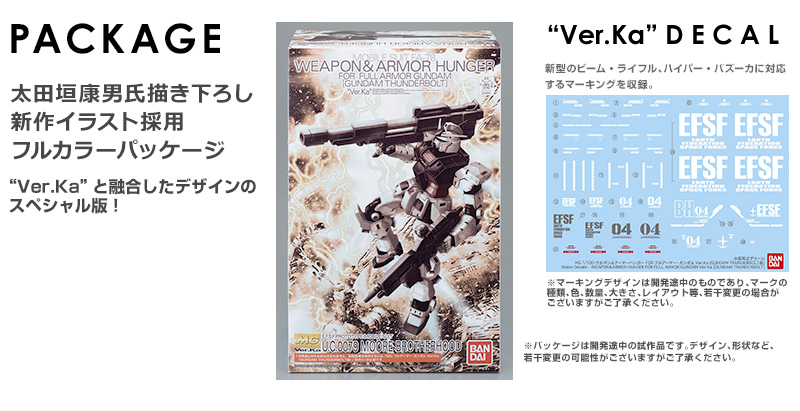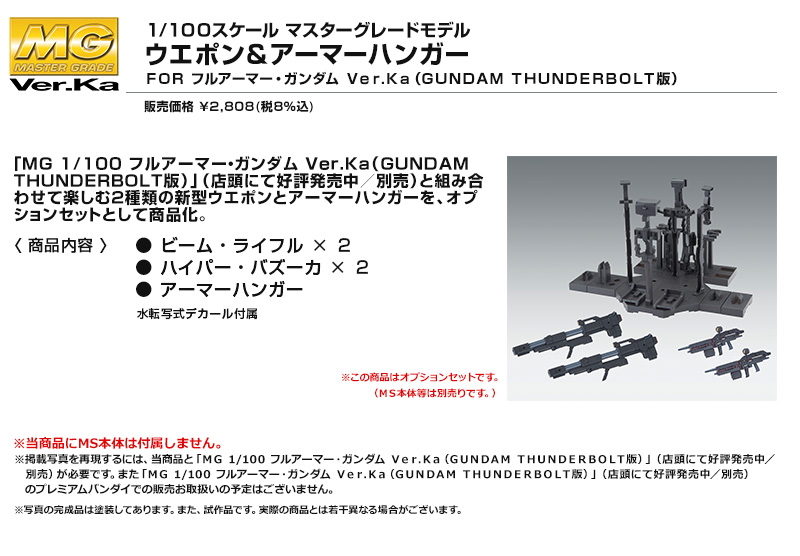 Two new types of weapons and an Armor Hanger MG "Ver.Ka" option set for even more enjoyment have been completed.
This product is an option set (MS body, etc. sold separately).
Full Armor Gundam "Ver.Ka" to the extreme -
"MG 1/100 Full Armor Gundam Ver.Ka (GUNDAM THUNDERBOLT edition)" (available now at stores/sold separately) and
Two new types of weapons and an Armor Hanger that can be enjoyed in combination have been commercialized as an option set.
[Product Contents]
Beam Rifle x 2 / Hyper Bazooka x 2 / Armor Hanger with water transfer decals included
Two types of new weapons! -
Two creators have created new weapons:
Mobile Suit Gundam Thunderbolt manga original design by Yasuo Ohtagaki Master Grade "Ver.Ka" concept design and production by Hajime Katoki
Two new weapons, the beam rifle and hyper bazooka, which are in compliance with MG "Ver.Ka," are included in pairs. They have precise parts separation and faithfully reproduce the mechanical details. Each weapon is equipped with a docking gimmick.
The beam rifle and hyper bazooka can be equipped on both arms in a double state, where each weapon is paired up vertically. This allows you to enjoy the appearance of the MS body equipped with powerful new weapons after purging the full armor.
★ Beam Rifle [Total Length: (Single) Approx. 105mm / (Double) Approx. 145mm]
The well-known beam rifle of Full Armor Gundam is now three-dimensionalized for the first time. The kit design is supervised by Mr. Katoki. It is equipped with a docking gimmick unique to Gunpla.
The beam rifle, with intricate details faithfully reproduced using four colored molded parts.
The two rifles have a docking gimmick in the vertical direction, allowing you to recreate a larger double beam rifle.
★ Hyper Bazooka [Total Length: Approx. 170mm / (Stored Form) Approx. 115mm]
To accompany the beam rifle, a hyper bazooka newly designed by Yasuo Ohtagaki specifically for Gunpla is included. The kit arrangement is by Hajime Katoki.
It is equipped with a barrel extension and contraction gimmick, allowing you to reproduce the stored form. Additionally, the two hyper bazookas can dock horizontally, forming a double hyper bazooka.

Armor Hanger that realizes the decorative appearance of the ship's interior! -
It is now possible to display the Full Armor Gundam in its pre-launch appearance as depicted in the series. With the mechanical details of the hanger, you can create an atmosphere of the ship's interior.
★ Armor Hanger [Size: W Approx. 290mm × H Approx. 175mm × D Approx. 210mm]
A newly constructed armor hanger that allows you to display and suspend the full set of Full Armor Gundam's armor as a display. It can suspend all the included weapons (excluding beam saber effects) and the two types of new weapons (four weapons in total).
Consists of a base and stay, enabling each armor and weapon to be positioned in dedicated locations.

The central base part can be used as a pedestal for an action base.

An action base accessory set (including support poles, etc.) that allows you to create displays with the new weapons using the base of the included armor hanger.

Full-color package featuring a newly illustrated design by Yasuo Ohtagaki, merging with "Ver.Ka."

"Ver.Ka" decals included!
Markings corresponding to the new beam rifle and hyper bazooka are included.
This product is a set of "weapons and armor hanger"